Megan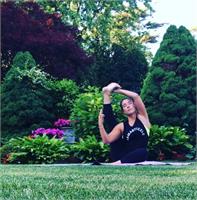 Megan, a fun free spirit with an open heart & mind, began her love affair with yoga in 2009. She completed her 200 hr training in 2014. Her love for yoga goes far beyond the physical practice and she truly believes that yoga makes the world a better place one person at a time.
Megan's vinyasa class is an ebb & flow of strength, sweat, and relaxation. With emphasison mindfulness and breath to avoid injury and create space in the body, she builds on her sequences- first focusing on settling into postures and refining alignment, then moving quicker through the flow, one breath per movement, often times working into fun balances and other playful postures!
Megan always reminds students to breathe and not take anything that happens on the mat too seriously. After building heat and challenging yourself, class ends in true relaxation with essential oils & feel good adjustments, leaving you feeling detoxed and refreshed. You deserve it!
Megan instructs the following:
A dynamic Vinyasa flow class where breath, movement, and meditation techniques coordinate to flow from one pose to the next.

Referred to as Vinyasa Flow because of the smooth way the poses come together with breath, while also generating lots of heat from within.

All levels and practitioners are welcome.




This class is our offering to our community. It's a great way to get to know your local yoga studio and it's instructors.

All are welcome to join, without sign-ups or appointments, for our $10 community class.