Ashley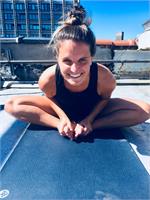 Ashley is a long distance runner turned avid yogi ever since first stepping onto her mat in 2014.
A financial analyst by trade, Ashley has found that her daily yoga practice helps her not only achieve a strong and healthy body, but maintain a peace of mind both on and off her mat.
She completed her 200-Hour yoga teacher training at Y2 Yoga, a Charlotte, NC based power yoga studio rooted by the Ashtanga Yoga method developed by Sri K. Pattabhi Jois.
Ashley's classes are challenging and powerful. She incorporates upbeat music and creative sequencing intended to help strengthen the body and focus the mind, leaving you feeling energized, inspired, and refreshed! Ashley strives to share her energetic spirit, passion for yoga, and dedication to personal growth with everyone who steps into her class.
Ashley instructs the following:
A dynamic Vinyasa flow class where breath, movement, and meditation techniques coordinate to flow from one pose to the next.

Referred to as Vinyasa Flow because of the smooth way the poses come together with breath, while also generating lots of heat from within.

All levels and practitioners are welcome.