Gigi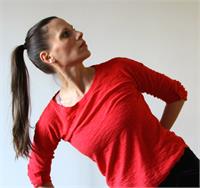 Gigi Boetto came to a dedicated yoga practice while assisting her husband through a very long and life-threatening cancer treatment.
She has a 500-hour teaching certification along with hundreds of continuing education hours in anatomy, kinesiology, and somatics.
Gigi prefers to focus on students who don't have access to regular yoga classes. She teaches Chair Yoga at Hot Spot Yoga Williamsburg- the only studio in Williamsburg that offers a dedicated chair class for students who cannot get up and down from the floor due to injury, disability or age.
Gigi instructs the following:
A gentle class practiced sitting on and/or standing next to a chair for support.

Learn to modify poses so they can be done while using a chair. These modifications make yoga accessible to people having difficulty standing or those who lack the ability to move easily from standing to seated yoga poses.