Garrett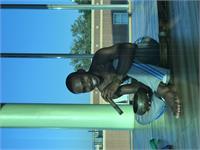 Garrett is a native of Cincinnati, Ohio.
He is a professional dancer and Certified Vinyasa Yoga Instructor. Garrett is known for his creative, simple & effective Vinyasa classes. He incorporates Didgeridoo sound healing into his teachings, allowing the broad range of harmonics & universal tones from his Didgeridoo to help restore an individual's vibration back to a less chaotic and natural rhythm.
Garrett enjoys exploring the power of breath, movement and sound healing in his classes. He displays an extraordinary gift in the art of breath and movement. His passion is to provide a meaningful learning experience to all beings who wish to move.
Garrett instructs the following:
Our Hot Vinyasa Yoga classes offer a dynamic flow in our hot room incorporating lots of pranayama (breathing techniques), music, and a variety of yoga poses ranging from beginners to advanced practitioners.

Be prepared to have fun, be challenged, and feel relaxed and rejuvenated. The perfect way to start of end your day.

All levels and practitioners are welcome.




A dynamic Vinyasa flow class where breath, movement, and meditation techniques coordinate to flow from one pose to the next.

Referred to as Vinyasa Flow because of the smooth way the poses come together with breath, while also generating lots of heat from within.

All levels and practitioners are welcome.