Anna Krasnovskaya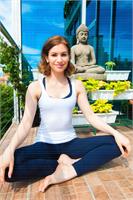 Hot Spot Yoga was Anna's home studio since she started to practice Yoga, here she got inspired to learn more about Yoga.
She received her 200h RYT training with Bryn Chrisman and Stacey Brass at Yogamaya New York in August 2016.
She teaches Vinyasa yoga, with great attention to correct alignment of the poses (so powerfully presented by B.K.S Iyengar). She believes that it's the details that complete the fine yoga asana practice. Her goal is to make students feel safe and feel better after taking her Yoga classes.
Anna is certain that yoga asana practice based on careful attention to right alignment done regularly over a period of time can heal a person.
Anna Krasnovskaya instructs the following: