Chauncie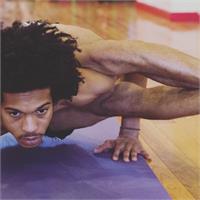 Chauncie has been a dancer for 11 years and has trained at the American Ballet Dance Theater for 2 years. In 2014 he stopped dancing and found yoga one year later. Since then yoga has been his passion and has even brought him back to dance.
Chauncie has been practicing Asana since 2012 and practices pranayama and meditation daily. He has 600 hours of teacher training in both hatha and vinyasa yoga. His classes are challenging but achievable. He teaches a blend of Hatha, Vinyasa, Ashtanga and Dharma. His sequence blends the traditions of yoga and bridges the gap between the styles.
Chauncie instructs the following:
Our Hot Vinyasa Yoga classes offer a dynamic flow in our hot room incorporating lots of pranayama (breathing techniques), music, and a variety of yoga poses ranging from beginners to advanced practitioners.

Be prepared to have fun, be challenged, and feel relaxed and rejuvenated. The perfect way to start of end your day.

All levels and practitioners are welcome.




The art of slowing down. Join us as we guide you through a slow and gentle vinyasa practice where breath and breathing techniques are at the heart and center of this class.

Alignment is one of the prime focuses of this class.

All levels and practitioners are welcome. Especially those feeling intimidated as they start their yoga journey.