Chauncie Parchment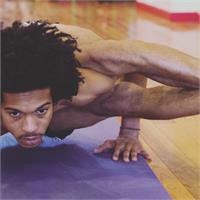 Chauncie has been a dancer for 11 years and has trained at the American Ballet Dance Theater for 2 years. In 2014 he stopped dancing and found yoga one year later. Since then yoga has been his passion and has even brought him back to dance.
Chauncie has been practicing Asana since 2012 and practices pranayama and meditation daily. He has 600 hours of teacher training in both hatha and vinyasa yoga. His classes are challenging but achievable. He teaches a blend of Hatha, Vinyasa, Ashtanga and Dharma. His sequence blends the traditions of yoga and bridges the gap between the styles.
Chauncie Parchment instructs the following:



Vinyasa flow class incorperating breathing excercises and meditation techniques.