Molly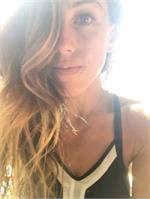 Yoga is the union of breath, body and mind.
Molly is a 1000 hour certified hatha, vinyasa + yin yoga instructor who is humbled to share her love of asana by guiding others through their own journeys to explore this relationship, creating balance to quiet the mind and nourish the soul.
Her trainings in Ashtanga, Iyengar & Hatha traditions lay the groundwork for her classes, combining fluid sequencing with breath awareness and balance to create mindful movement.
Her education is strongly rooted in foundations of yoga therapy and hatha yoga with attention to precision and alignment, so each class is keenly in tune with the body with respect to symmetry and maintaining spinal integrity. She strives to create an experience of consciousness and spaciousness that is both challenging and accessible to all levels of experience, and her love of music shines through in each class.
First and foremost Molly is a student. The practice of yoga in her life extends far beyond the mat and she is grateful for the opportunity to honor her teachers by sharing this with students at Hot Spot Yoga, and hopes to inspire this same love in each one of them.
Molly instructs the following:
Our Hot Vinyasa Yoga classes offer a dynamic flow in our hot room incorporating lots of pranayama (breathing techniques), music, and a variety of yoga poses ranging from beginners to advanced practitioners.

Be prepared to have fun, be challenged, and feel relaxed and rejuvenated. The perfect way to start of end your day.

All levels and practitioners are welcome.




Our restorative yoga class typically involves just a few poses, supported by props that allow you to completely relax and rest while holding the pose for 3-5 minutes.

Poses include very gentle and supported twists, seated forward folds, and gentle back bends.

Intended to calm and reset your whole body and mind.

All levels and practitioners are welcome.




Easy program for cultivating and maintaining a strong foundation.




Yin yoga is a restorative style practice focused on peeling back layers of constricted muscular tissue to release tension and create space and mobility in the body.

The majority of postures are performed seated or reclined and held for 3-5 minutes with the support of bolsters, blocks, blankets and straps. Yin is an excellent compliment to your regular vinyasa practice and a perfect way to unwind, find stillness and center to prepare for the week ahead.

Accompanied by blissful beats, essential oils and hands on adjustments, prepare to feel amazing after this class.




A dynamic Vinyasa flow class where breath, movement, and meditation techniques coordinate to flow from one pose to the next.

Referred to as Vinyasa Flow because of the smooth way the poses come together with breath, while also generating lots of heat from within.

All levels and practitioners are welcome.