Iryna Danyliv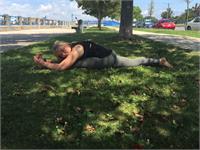 With her playful sequence Iryna, tries to challenge her students to find effort and ease in an every pose, to find comfort in discomfort and move forward.
No attachments, no expectations, no labels, no stereotypes. The purpose of yoga is to discover who we truly are, to bring us back to our true Atman. All the answers to all our questions are within us, we just have to sit still and listen.
May intuition always be your guide. You are perfect the way you are right now. Practice and all is coming.
Iryna Danyliv instructs the following:



Vinyasa flow class incorperating breathing excercises and meditation techniques.