Iryna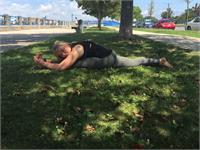 With her playful sequence Iryna, tries to challenge her students to find effort and ease in an every pose, to find comfort in discomfort and move forward.
No attachments, no expectations, no labels, no stereotypes. The purpose of yoga is to discover who we truly are, to bring us back to our true Atman. All the answers to all our questions are within us, we just have to sit still and listen.
May intuition always be your guide. You are perfect the way you are right now. Practice and all is coming.
Iryna instructs the following:
Our Hot Vinyasa Yoga classes offer a dynamic flow in our hot room incorporating lots of pranayama (breathing techniques), music, and a variety of yoga poses ranging from beginners to advanced practitioners.

Be prepared to have fun, be challenged, and feel relaxed and rejuvenated. The perfect way to start of end your day.

All levels and practitioners are welcome.




A dynamic Vinyasa flow class where breath, movement, and meditation techniques coordinate to flow from one pose to the next.

Referred to as Vinyasa Flow because of the smooth way the poses come together with breath, while also generating lots of heat from within.

All levels and practitioners are welcome.




Our restorative yoga class typically involves just a few poses, supported by props that allow you to completely relax and rest while holding the pose for 3-5 minutes.

Poses include very gentle and supported twists, seated forward folds, and gentle back bends.

Intended to calm and reset your whole body and mind.

All levels and practitioners are welcome.




Easy program for cultivating and maintaining a strong foundation.