Marina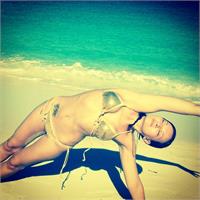 To say that yoga saved Marina's life would be a huge understatement.
In 2008 she was diagnosed with a rare and serious autoimmune disease which left her paralyzed and blind in on eye. After several months of healing her physical body, she embarked on a spiritual healing journey and Yoga knocked on her door.
Everything changed for Marina after that very first yoga class back in 2009. Shortly after that she completed her 200 hr Yoga Teacher Training at Atmananda yoga in NYC. Later that year Marina and her now, 2 teenage daughters decided to live adventurously and move to the Jungles of Costa Rica where they lived,played and enjoyed all that life had to offer.
In Costa Rica Marina became a certified 1&2 Reiki Master. Along with Yoga and Reiki Marina led and assisted many workshops and retreats in a spiritual community where her and her daughters lived for 2 years.
She thrives on being a yoga teacher and hopes to help others through the healing of yoga, as it once healed her!
Marina instructs the following:



Vinyasa flow class incorperating breathing excercises and meditation techniques.