Paula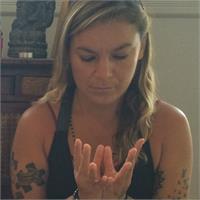 Having grown up in New England and attending a Quaker school Paula realized yoga had always been a part of her life, she just hadn't realized it until she moved to New York City in January 2000.
She spent countless Fridays as a kid sitting in silent meeting wondering what the point was. Once she moved to New York and took her first yoga class she realized Meditation came in many forms and yoga was all around her. Being an ex athlete with a hand full of injuries she began to practice daily and discovered a new found love which took the place of all those hours spent in the gym.
Completing her 500 hour certification with Bryn Chrisman and Stacey Brass of Yogamaya in 2012, Paula is always excited to share her knowledge of the practice and yogic philosophy. Her classes are creative, strong, alignment based and of course, full of her love for underground music. Paula continues to stay busy teaching weekly classes, doing workshops, leading teacher trainings and taking on other yoga related projects as well as spending time with her two dogs Ripley and Lindo a pit bull and pit bull husky mix.
Paula instructs the following:
Our Hot Vinyasa Yoga classes offer a dynamic flow in our hot room incorporating lots of pranayama (breathing techniques), music, and a variety of yoga poses ranging from beginners to advanced practitioners.

Be prepared to have fun, be challenged, and feel relaxed and rejuvenated. The perfect way to start of end your day.

All levels and practitioners are welcome.