Maia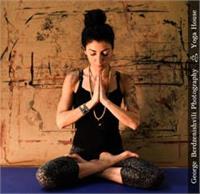 After a break from dance and gymnastics, my very first class in yoga was with the master and founder of Atmananda yoga John Tanmayo where I also took my first teacher training. Since then, yoga has helped me live a healthier, more joyous, and fulfilled life.
My goal is to have my students find their inner source of power that they can use to overcome false limitations of the mind through concentration/meditation, pranayama and asanas and to help them let go of any unwanted weight on the physical, mental and energetic level and to also love hot vinyasa as it intensifies the practice, thus delivering faster results. Being dedicated to growth and evolution I am passionate and grateful to have opportunity to share this beautiful path with you.
" Love Is All There Is "
Namaste
Maia instructs the following:
Our Hot Vinyasa Yoga classes offer a dynamic flow in our hot room incorporating lots of pranayama (breathing techniques), music, and a variety of yoga poses ranging from beginners to advanced practitioners.

Be prepared to have fun, be challenged, and feel relaxed and rejuvenated. The perfect way to start of end your day.

All levels and practitioners are welcome.