Raquel Le Roux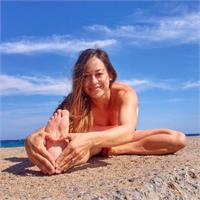 Yoga has been a part of Raquel's life since 1999, when she began practicing Hatha at a small studio in San Diego, California. After receiving her 200hour Yoga Teaching Certification from La Jolla Yoga Center in 2010 she began teaching immediately. She continued her studies in a 100hour Yoga Immersion at Yoga Tree San Francisco.
Before moving to New York Raquel spent two years teaching in the South of France to an international yoga community. She studied yoga, practiced and taught at Sohum Yoga Shala Antibes, France. While in France she also expanded her knowledge of the French language. She recently returned to the United States and resides in Brooklyn, New York.
Raquel draws from the Vinyasa, Ashtanga and Hatha Yoga traditions. She combines energetic movement and breath in mindfully aligned postures to create full mind-body connection on the mat. She also incorporates meditation, flow sequences and deep stretching. In her class you will find a fun environment to practice in and be able leave with more body awareness along with a peaceful mind.
Raquel Le Roux instructs the following: